At Capefront Energies, we take pride in offering our clients seamless and hassle-free solutions through our Lump Sum Turnkey Project Services. With our proven expertise and commitment to excellence, we undertake full responsibility for the project's scope, cost, and timeline, providing you with a comprehensive and fixed-price package that ensures successful project outcomes.
When you choose our Lump Sum services, you can rest assured that we will handle the entire project scope from start to finish at a predetermined fixed cost. This approach allows you to have complete clarity on the project budget right from the outset, eliminating any uncertainties and unforeseen expenses. Our team of skilled professionals will diligently manage the project, ensuring that all aspects are efficiently executed within the agreed-upon budget.
 Our Turnkey Project Services offer a one-stop-shop solution, where we take charge of the entire project, from concept to completion. With our turnkey approach, you can concentrate on your core business while we handle all aspects of the project, including planning, design, procurement, construction, and commissioning. Our streamlined process ensures a seamless project execution, delivering a fully functional and ready-to-operate facility, leaving you with peace of mind and a successful project delivery.
Installation, Commissioning & Decommissioning
Lifting and rigging services
Riser repairs
Crane exchanges
Cutting and removal projects
FPSO swivel exchanges
Repair / maintenance / reinforcement of jacket structures
Flare tip repairs & replacement
Wide-range of NDT services
Lifting equipment inspection / surveys
Class surveys
DROPS survey
Derrick inspections
Surveys and inspection
Installation, maintenance, repairs, and modification works
Extensive range of applications
All technologies
Rope Access Intervention zone example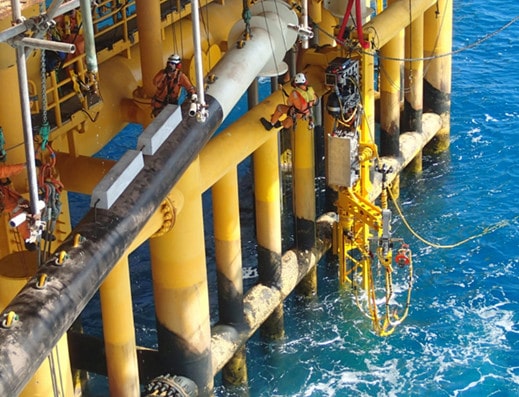 Splash Zones
Splash zones are located immediately above water level, and these areas are hardly accessible. With rope access, you can easily reach all splash zone areas, which is impossible with scaffolding. Sudden freak waves or foot slips are safer with an experienced rope worker.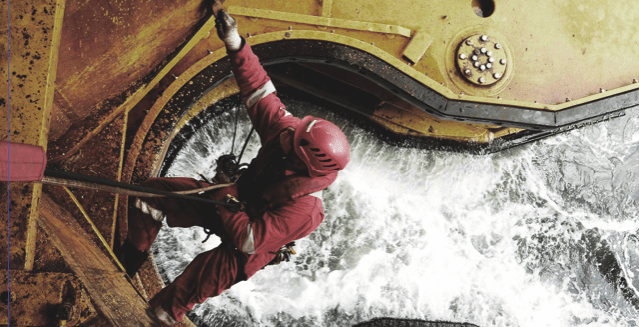 Confined Spaces
Rope access technicians can work in hardly accessible spaces. They can enter and inspect cramped spaces regardless of their depth and configuration. As long as they can fit their body through a gap, they can work and solve problems.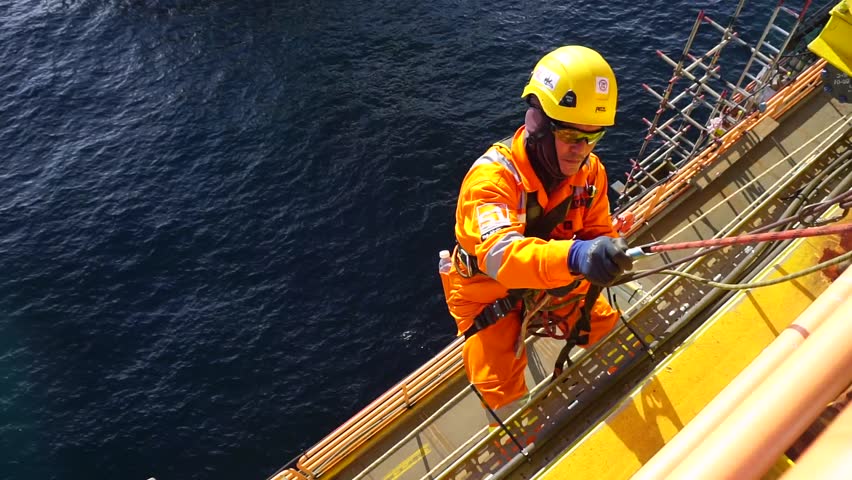 At Height
As opposed to scaffolding methods, rope access allows contact with all areas, regardless of height. There's also no time spent removing and re-fitting scaffolding. A rope access technician can quickly cover vertical and horizontal ground.
Rope Access Scope example
With a fixed lump sum or turnkey package, you have complete cost certainty and can plan your project budget effectively.
Our experienced team ensures timely project completion, minimizing delays and accelerating the project schedule.

By transferring the project risk to us, you can concentrate on your core business, knowing that the project is in safe hands.
With our turnkey approach, you will have a single point of contact throughout the project, streamlining communication and reducing complexities.
We maintain stringent quality standards in every phase of the project, ensuring that the final deliverables meet or exceed your expectations.
With decades of experience in the energy industry, our professionals possess the expertise to handle even the most complex projects with precision and efficiency.